Described as The Worlds First Ionised Christmas Tree, The Singing Christmas Tree has become the major Christmas attraction for both adults and kids at Sydney's award winning Powerhouse Museum.
The tree is shaped by more than 100 lineal metres of hand-worked glass. It stands over 4 metres (14 ft) high and is more than 5 metres (16 ft) wide.
The decorations are filled with gases such as argon, xenon, krypton, neon and helium.
When the gases are activated, they cause the decorations to glow and flash. When touched, they activate choral voices so the tree can sing in rich harmonious tones.

Many of the decorations have no electrical connection; these displays are activated by the proximity of the visitor which affects the conductivity of the gases in the glass decorations.
Visitors to the museum create their own plasma effects by being in proximity to an/or touching the glass tubing and displays decorating the tree.
Behind its dazzling decorations is the most common state of matter in the universe: Plasma. When energy is introduced into a gas, electrons are separated from the atoms and molecules to become positively charged ions.

These charged ions go to make up the plasma. During the excitation process, electromagnetic radiation (such as visible light) is given off, resulting in the dramatic effects of the ionised Christmas tree.
The decorations have been hand worked and blown into electronic icicles, plasma baubles, snowflakes, double helix argon spirals and many other gas discharge displays.
Some of the displays were hand-blown by traditional craftsmen to designs based on early nineteenth century Christmas Tree decorations.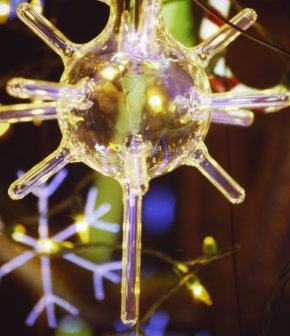 As if that weren't enough, electronic sensing devices monitor the gas discharges for any changes caused by visitor interaction.
Information about changes is fed back to central control units. In this way, visitors control the sound & lighting effects - both by proximity & direct interaction with the tree decorations.
The tree produces a full range of rich choral harmonies and a variety of accompanyments including wind chimes and bamboo flutes.
The sounds are stored in a modified KORG M1 synthesiser whilst other computerised equipment controls changes in pitch, decay and other sound properties.
Another control unit monitors three large plasma touch panels at the base of the tree. This control unit makes sure that the variuos different sounds always blend together harmoniously - avoiding poor combinations of voices in different pitches.
Examples of actual sound compositions
Dr Jesse Shore, Science Currator at The Powerhouse Museum, commissioned a Sydney design group, the Studio of Arts And Sciences, Sydney, to design and create the tree.
In the words of Doctor Shore:
'The tree shows how a marriage of Art and Science can produce a truly wonderful experience for all.'
Definitely a MUST to take the kids to this Christmas - both young and old!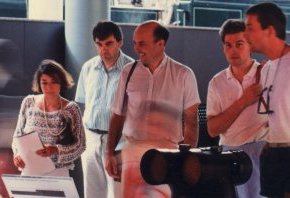 The text for most of this article was taken verbatim from an article in The Australian newspaper.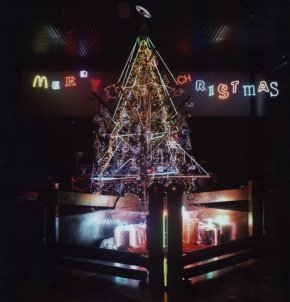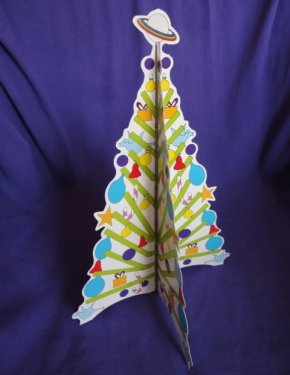 The beauty of a living thing is not the atoms that go into it but the way those atoms are put together: Carl Sagan